Bespoke Retail Lighting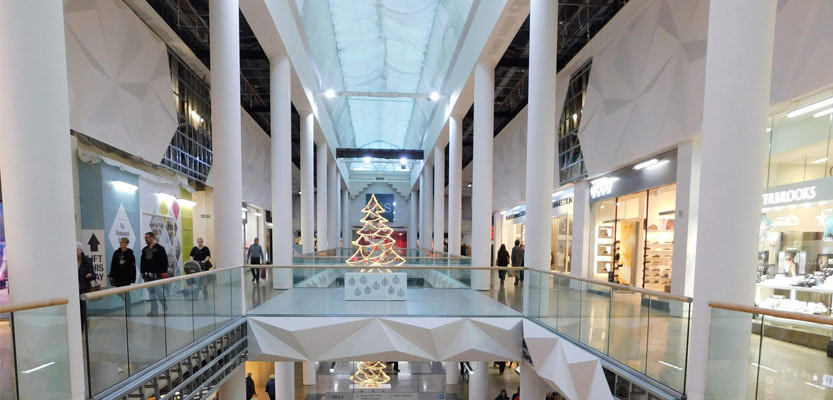 The Meadowhall Shopping Centre in Sheffield is currently undergoing a £60m makeover. Due for completion at the end of 2017, the refurbishment of the existing shopping centre aims to create a retail space which offers a more vibrant shopping experience through the use of natural and bespoke interior light.
Barrisol Welch was asked to design and install bespoke Barrisol Lighting features throughout the shopping centre, to help create a brighter and more open environment in line with The Future of Meadowhall vision.

The project brief required the design and installation of 70 Barrisol ceiling lights into the existing shopping centre recesses. Completed over four stages, this included a mixture of circular and rectangular lighting features.
Barrisol Installations
Starting with the circular lighting features, we forged a BS 350/01 aluminium track to suit the radius of the circles, using our specialist in-house machining techniques.
We then installed the all of the pieces of Barrisol track system into the existing ceiling recesses and arranged for the required Barrisol stretch materials to be cut and delivered ready for project completion.
Using Osram LED lighting to illuminate the translucent stretch ceilings provided an even light source across the panels to achieve the bright and open shopping environment required for the project vision.
Take a look at this bespoke retail installation in progress:
If you'd like to know more about this installation or are considering using Barrisol for your next project, call the Barrisol Welch team on 0800 124 4143 today or fill out our handy contact form and we'll call you back.
Watch: Meadowhall Shopping Centre Installation