Barrisol Light Lines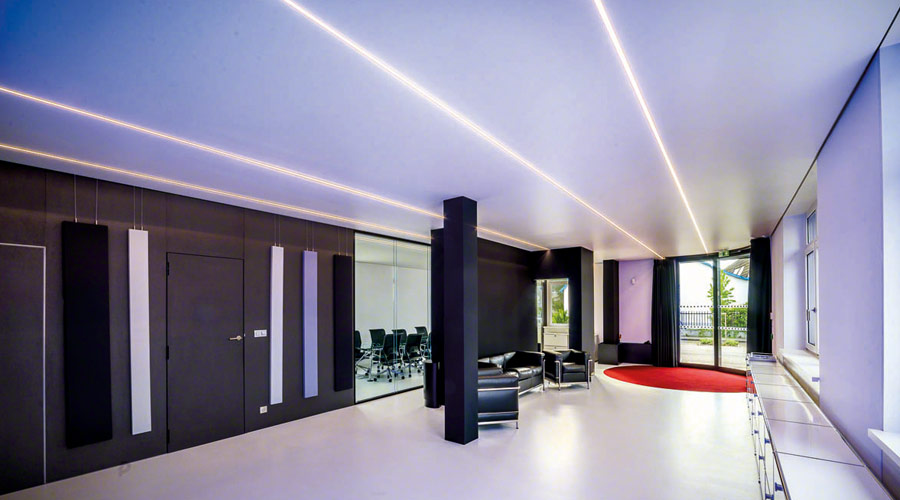 Barrisol Light Lines revolutionise the illumination of spaces by integrating with the entire range of Barrisol's stretch products to create a minimalist and unique aesthetic within the ceiling.
Characterised by its ability to create clean and uniform lighting designs, the flexible and versatile nature of Barrisol Light Lines allows you construct the exact look you want, from a palette of over 300 colours and finishes.
Barrisol Creative Lighting
Adaptable to all shapes, Light Lines enable the invisible integration of LED lighting systems in both straight and rounded designs.
These creative light profiles provide a fully optimised lighting system without the need for additional diffusers, saving energy and extending the life of the LEDs.
Advantages of Barrisol Light Lines:
Reduced power consumption
Energy saving, very low voltage electrical system
Extended LED lifetime
Invisible integration
Significant choice of technical solutions
Over 300 colours and finishes to choose from
Small footprint with only a 20mm aperture
Adaptable to all shapes with both straight and rounded designs
Dimmable lighting with easy change LEDs
For more information on Light Lines installations you can download the brochure, call us on 0800 124 4143 or get in touch via our website and we'll call you back.
Gallery of Barrisol Light Lines