Barrisol Illuminated Forms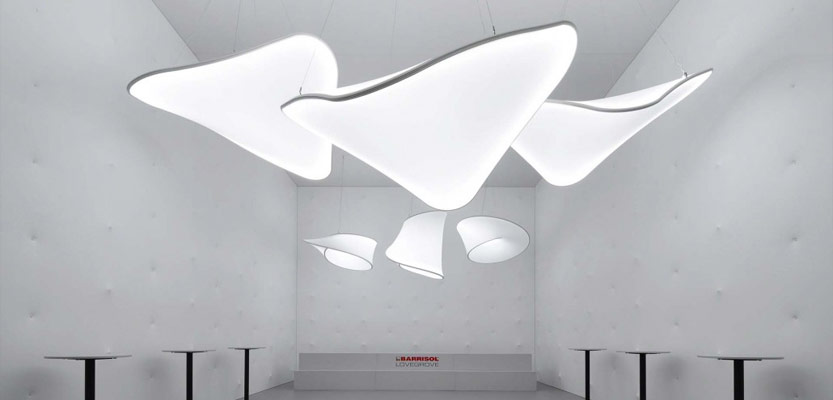 Barrisol Welch design and manufacture bespoke illuminated forms using Barrisol aluminium tracks, translucent finishes and unique bending technology.
We design and build illuminated 3D forms and light boxes at our Barrisol UK workshop using our specialist bending machinery. Our team of trained Barrisol engineers then deliver the pre-built frames to site, where we fix the chosen Barrisol stretch fabric into the frame and complete the installation.
Watch: Barrisol Orange Pendant Installation
Barrisol Illuminated 3D Projects
The flexibility of Barrisol stretch materials and track systems has led to some exciting design partnerships over the years. Designers such as Ross Lovegrove, Piero Castiglioni, and Chantal Thomass have all used Barrisol to create many illuminated forms.
Lovegrove's light project follows the manta, infinite loop alpha, infinite loop beta and infinite loop sigma, which are all unique in their shape and size. The Barrisol stretch fabric was fixed into shape by clipping into the tracks and the LED strip lighting illuminated the fabric with a nice even glow.
This was the same for the Castigloni light with the exception that the stretch material was used to create the shape instead of the aluminium track, as the fabric was stretched upwards.
The Chantal Thomass Butterfly also used the same Barrisol design aspects to create her simple but eye catching lighting features.
Take a look at some Barrisol illuminated projects or call the Barrisol Welch team on 0800 124 4143 for details on incorporating illuminated Barrisol displays into your next design project.
Gallery of Barrisol Illuminated Forms