Leading The Way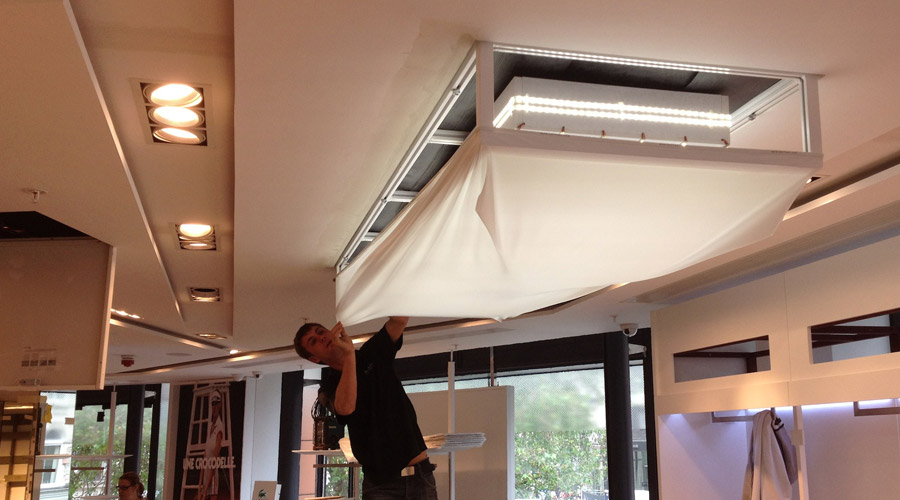 Barrisol Welch is the leading provider of Barrisol Installations in the UK. We are highly experienced in the design, manufacture, installation and aftercare of Barrisol across a wide range of sectors.
From your first enquiry through to the handover and aftercare, everyone you speak to at Barrisol Welch is committed to providing a professional, friendly and flexible service.
We build the whole Barrisol solution, for every client, from our UK based aluminium and timber workshop. Our skilled team of craftspeople provide fabrication services for suspended 2D and 3D features with exceptional standards of finishing.
Our experience coupled with the passion we hold for the Barrisol range has led us to work on some truly magnificent projects over the years. Every project we deliver is unique, meaning our knowledge of Barrisol's true capabilities is unlike anyone else in the UK.
The Stretch Ceiling Specialists
We approach every Barrisol Installation in three stages – pre-planning, first fix and second fix.
Pre-Planning Stage
The pre-planning stage is where we conduct a comprehensive review of the Barrisol system requirements and ensure the project scope is clearly defined and agreed by all parties.
First Fix Stage
The first fix stage involves installing the appropriate supporting structures, retention tracks and lighting components in preparation for the second fix stage.
Second Fix Stage
The second fix stage involves fitting the chosen Barrisol Stretch Material and commissioning the LED lighting where appropriate.
Lighting Installations
We have over 43 years of experience in designing, installing and programming, outstanding lighting systems for a diverse range of clients. Whether it's a residential, commercial, retail or a large event space installation, our integration and light control expertise allows us to create tailored lighting effects to enhance the architectural features of every application.
We will work with you and your design team to ensure only the most viable light sources are used to fit your requirements. We can integrate into existing control systems, provide intuitive local controls for end users, or we can install full digitally controlled LED systems with video capabilities for incredibly vivid and abstract lighting effects.
Contact us for more information or call the team on 0800 124 4143 to discuss your installation requirements.
Gallery of Barrisol Welch Stretch System Installations