Be Inspired By Barrisol Lighting Design
Barrisol Lighting Design – The ideas
Barrisol translucent stretch ceiling systems offers a unique way to bring light into your designs in a more vivid way than ever before.
Adjusting the light intensity or changing the light color can allow you to dramatically change the appearance and feel of any space with just the push of a button.
Although often overlooked, Barrisol lighting systems often have a large impact on how a 
space feels to the occupant. Through the use of Barrisol, architects and interior designers can now use technology to improve the way they light interior spaces and help reinforce their design intent.
Barrisol Welch is not just a Barrisol lighting specialist but has been heavily involved in the lighting industry for 40 years. We can help with the design for a simple light box or a 3d illuminated structure or room. If you are not sure of what DMX, 0-10v, ArtNet control is and the design considerations for using RGBWW 5050LED give the Barriol Welch a call.
Barrisol Lighting
Barrisol Welch Video – LED Light Pendent for Marine Project
Barrisol Lighting – Translucent Ceiling Systems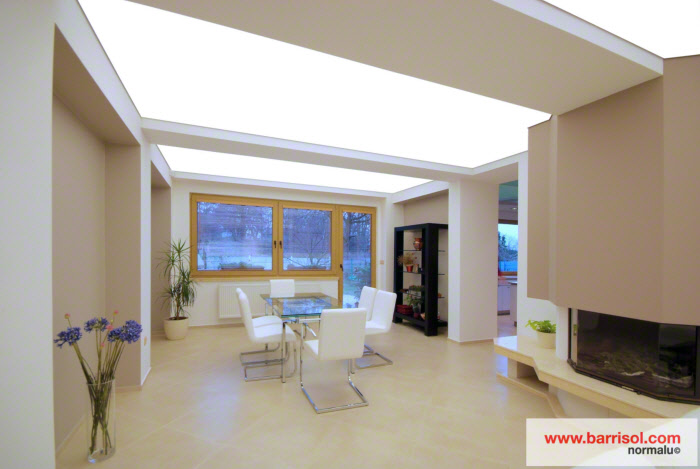 Barrisol translucent ceiling with backlighting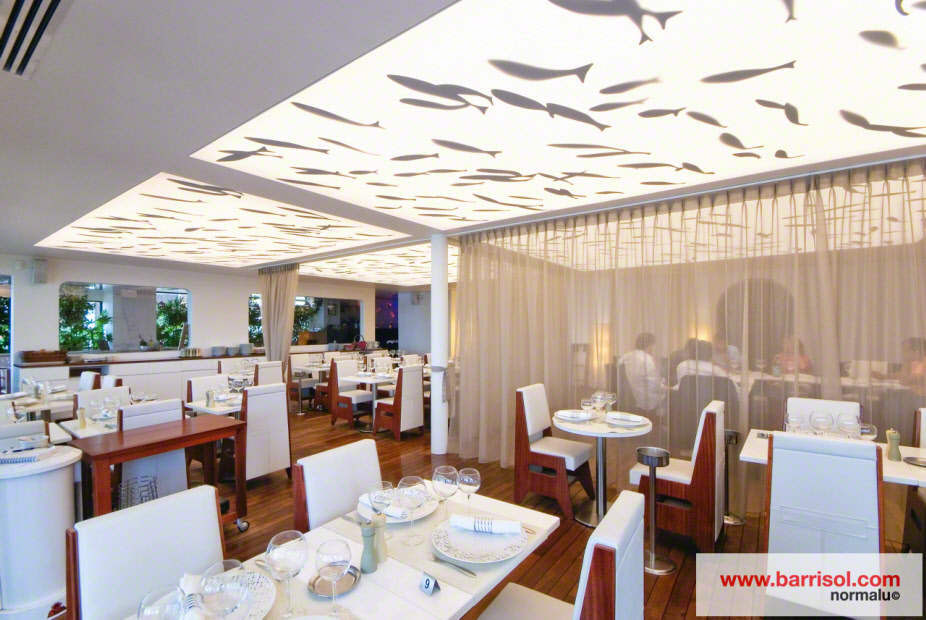 Restaurant with Barrisol translucent ceiling with RGB colour changing LED lighting.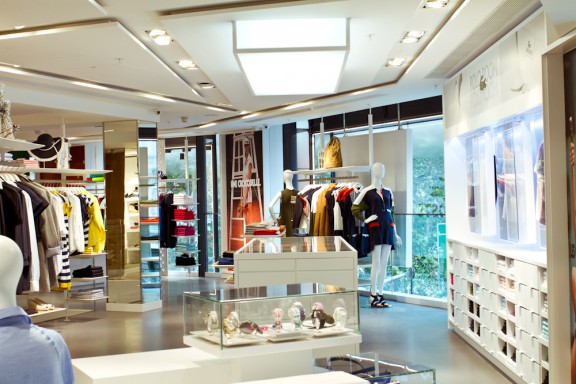 Barrisol Lightbox installed by Barrisol Welch @ Lacoste London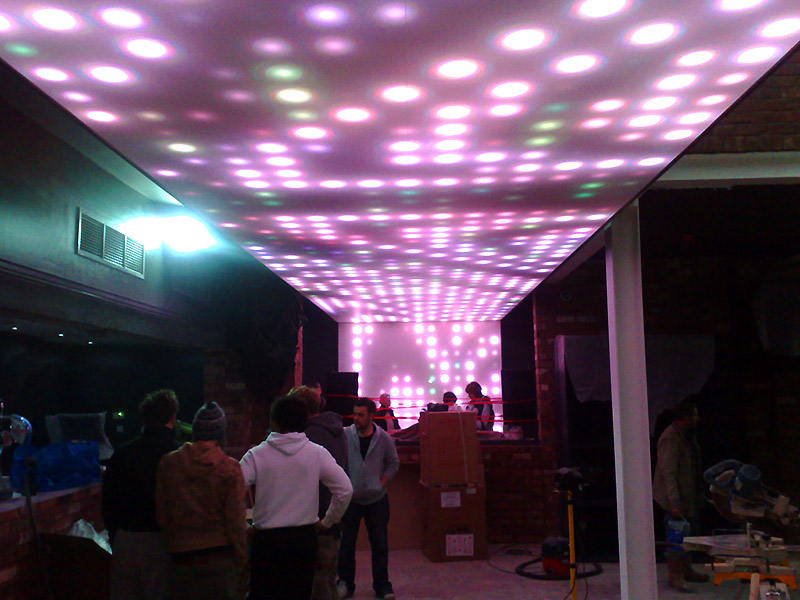 Barrisol Translucent ceiling with intelligent LED lighting
Each individual LED has a microchip "IC" that gives it an address this makes it possible for images or videos can be shown through the stretch ceiling. The number of LED's with DMX addresses can run into thousands so when this happens, Madrix Control Software can be utlised to programme the lighting. If you have a similar project requirements, why not talk to us.
Barrisol Lighting – LED Light Sources
Barrisol Welch use  only one type of LED for illuminating Barrisol lighting for Stretch Ceilings,  SMD5050. The number is just the width of circuit board, the other option is SMD3528 has 8mm circuit board while SMD5050 has 10mm circuit board.
Although the size of 5050 is just a little bigger, it's 3 times more bright than 3528 because it's tri-chip LED. Each SMD3528 is emitting 5-6 lumens while 5050 is 15-16 lumens. Each SMD3528's working watt is 0.08 and SMD5050 is 0.24. SMD5050 LEDs .
Further design considerations should be made when using LED to light Barrisol. Certain LED can suffer from voltage drop along the length of the strip. So if the LED strip or tape runs for more than 5m from origin of the power source, the intensity or color temperature may vary showing through the Barrisol. In this case further electrical considerations come into play.
As an approximate rule of thumb the distance between the fixing point of the LED and Barrisol surface should be "Square" So your light box is 200mm deep, so the spacing between LED strips should be 200mm. If the distance is 100mm deep spacing should be 100mm. If the depth of the Barrisol light box exceeds 650mm further design and lighting calculations need to be considered.
Find out more about Barrisol Lighting here.
Installation of Barrisol Light Boxes at the John Martin Gallery situated in Soho
https://www.barrisolwelch.com/wp-content/uploads/2018/03/Backlit-Printed-Ceiling.jpg
400
833
James Welch
/wp-content/uploads/2015/12/logo-bw.png
James Welch
2012-04-05 16:32:48
2019-06-21 17:38:19
Be Inspired By Barrisol Lighting Design