Introducing Barrisol Stretch Mirror
Barrisol Stretch Mirror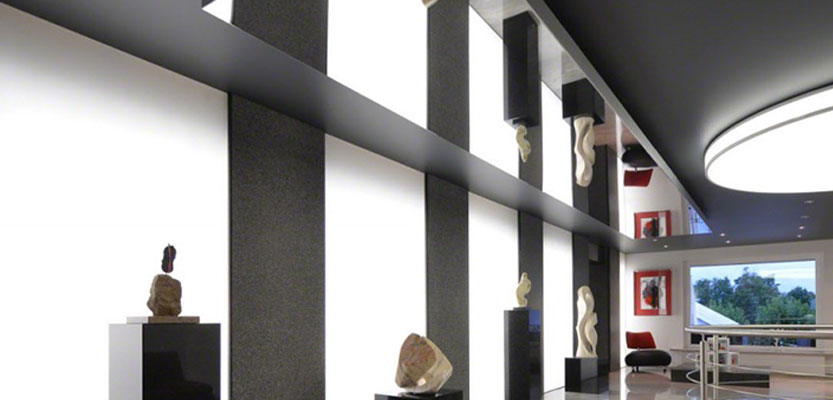 Barrisol Stretch Mirror is launched in the UK
Barrisol Stretch Mirror is the fruit of Barrisol's latest research and development to expanding its line of stretch materials.
Barrisol Welch now provide stretch mirror installations in the UK
The same reflective capabilities of a true mirror
Easy to clean and maintain
Won't break or shatter like traditional glass
Flexible Mirrors
With a high power of reflection, the amazing Barrisol stretch fabric merges the reflective capacity of a mirror with the flexibility of the sheet.
Created to change design without the need to modify space, Barrisol's mirrored sheets bring elegance and design to the rooms they are applied to.
The stretch mirror range is extremely lightweight (292g/sqm). Specifically designed to be fixed on Barrisol's aluminium frames you can create any reflective shape from rectangles, circles, triangles or squares, to large suspended 3D forms.
The Barrisol Stretch Mirror is available in gold and silver, with a protective film which is removed after installation to leave a perfect mirror finish.
Bringing a unique character to any space, the silver mirror finish blends into the background like a true glass mirror with a modern and a beautiful brightness. This innovative material widens spaces, conveying a contemporary and uncluttered touch to internal decors.
Barrisol Stretch Mirror Fire Rating
Barrisol mirrored sheets are fire rated following the European and international standards (BS2-D0).
All fire and toxicity tests confirm that Barrisol Stretch Mirror meets both public and home spaces requirements. All Barrisol Stretch Ceilings are rated A+ (best result) for indoor air quality, in accordance with current legislation.
Barrisol Stretch Mirror CE Conformity
Barrisol mirrors are "CE" certified and fire rated following the European and international norms (bs1-d0, bs2-d0, bs3-d0).
Barrisol guarantees its products in public spaces and guarantees the same level of exigency in your house. These tests completed by French, English and American independent laboratories, confirm that the Barrisol products do not present any risk to health during the installation or to the final customer.
Get in touch or call the Barrisol Welch team today on 0800 124 4143 to discuss your Barrisol Stretch Mirror design.
https://www.barrisolwelch.com/wp-content/uploads/2017/07/Barrisol_Stretch_Mirror_Installation_2.jpg
400
833
James Welch
/wp-content/uploads/2015/12/logo-bw.png
James Welch
2012-10-04 15:50:45
2023-02-22 23:27:23
Introducing Barrisol Stretch Mirror