Intelligent LED Media Ceiling Installation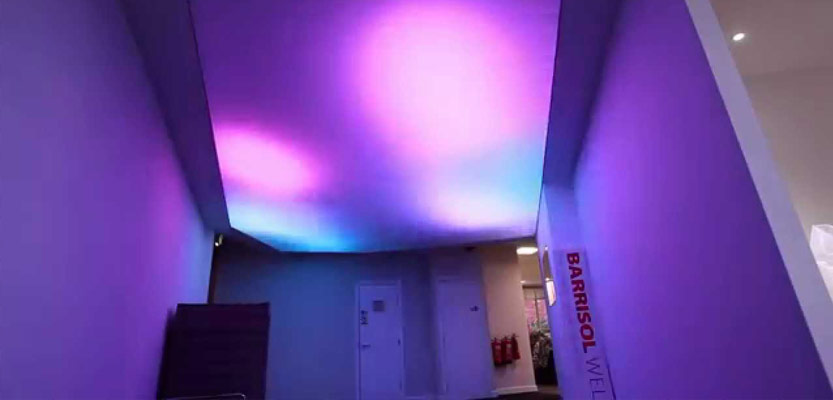 Barrisol Welch has completed a bespoke lighting installation, with media programming solution, for the Virgin Media offices in Manchester.
One of Virgin Media's busiest offices, the site in Wythenshawe has been specially designed as the company's centre of excellence for training. Our brief was to create a high impact lighting scheme, with a 'wow' factor, for a reception area used for welcoming business clients.
Barrisol Media Ceiling Installation at Virgin Media Office
Utilising ArtNet (DMX) interfaces, we created a tailored lighting solution to cover the ceiling and walls of the intended project area.
Driven by a media PC, we used the latest lighting software to create vibrant abstract video imagery, with controls for each individual LED emitter, to display across the ceiling and backlit wall of the reception area.
The ArtNet distribution is achieved through installing a proprietary local network which is dedicated to the media PC and ArtNet interfaces. For this particular project we provided ArtNet devices capable of providing 4,000 pixels (0r 12,000 channels) of lighting control.
We also installed a user keypad and control processor to provide further remote access to the lighting software. This enabled the client to easily select scenes and sequences, as well as controlling the intensity of the lighting levels.
Through the chosen software and control solution, we were able to support our client in creating corporate imagery to match their branding and business strategy for current and future events.
Take a look at our intelligent lighting software:
On site survey and installation
We started by surveying the project site, taking precise measurements to ensure our technical team were able to accurately calculate the required light resolution.
This was an important step for three reasons:
The measurements dictate the number of pixels and LED strips required for the installation
They tell us the amount of power supplies, control circuits and interfaces required
They are critical for the final impact of the media ceiling
We designed, built and installed a large light box using a Barrisol Mercure skin. Barrisol Mercure is a translucent materials with a light transmission rate of 52% and a reflection rate of 51%.
In order to keep the sheet in pristine condition we fitted an additional skin, using Barrisol Nereide, between the lighting system and the lower Barrisol diffuser. This additional sheeting provided a buffer to avoid dust, insects and other elements from spoiling the aesthetics of the light box.
We finished off the light box installation with intelligent LED lighting, featuring a programmable lighting sequence and daily time lock events.
Continuing the backlit feature into an adjacent wall, we fitted further LED strip lighting and built a frame to house a recessed TV for digital signage. The wall was then covered with a woven Artolis Bi-Face to complete the look.
When the intelligent lighting system is not in use, supplementary lighting within the ceiling area provides general walkway light which can be controlled using daily time lock events.
If you'd like to know more about bespoke Barrisol Welch lighting features, call us on 0800 124 4143 today or fill out our handy contact form and we'll call you back.
Watch: Barrisol Media Ceiling Installation