Barrisol Printed Ceiling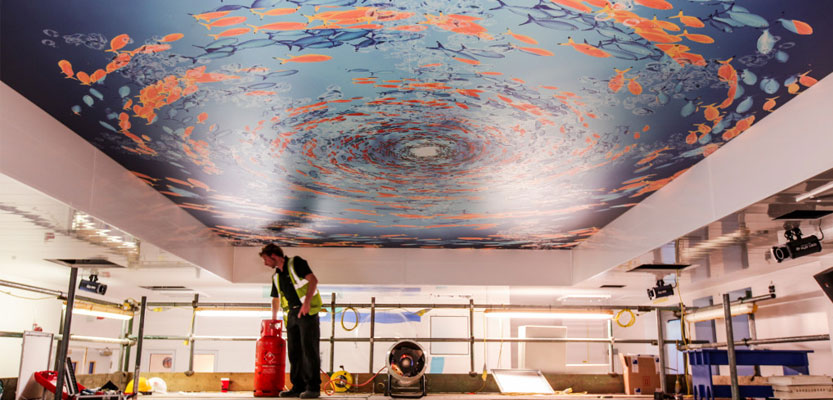 Thanks to donations from the Thomas Cook Children's Charity, the Royal Manchester Children's Hospital has undergone a unique transformation to make the clinical hospital environment more welcoming and child friendly.
The renovations have helped to create a relaxed atmosphere for children undergoing treatment, with sound art and coloured lighting to provide stimulation and encouragement for patients of all ages.
A major part of this makeover includes the bespoke Barrisol printed ceiling over the hospitals hydrotherapy pool, transforming the area into an 'under the sea' wonderland.
Barrisol Installations
Working closely with IBI Group and Lend Lease, we created a technical ceiling design to comply with the stringent requirements for this NHS installation.
The full ceiling structure was pre-built and powder coated in the Barrisol Welch workshop.
We used Barrisol Star Track BS350/11 to allow the ceiling to have a minimum shadow gap around the perimeter.
We then transported and installed the self-supporting steel frame with stainless steel fixings. The final installation of Barrisol Blanc White Printed Sheet took less than two hours.
Get in touch or call the Barrisol Welch team today on 0800 124 4143 to discuss your printed stretch ceiling installation.
Watch: Barrisol Printed Stretch Ceiling Installation