Barrisol Stretch Ceilings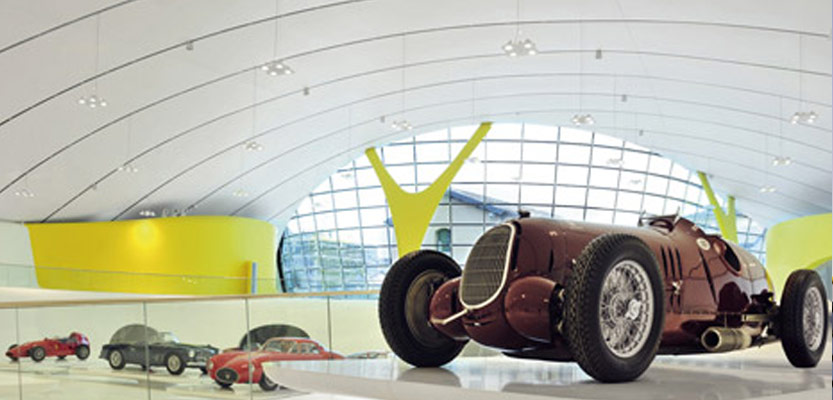 The Museo Enzo Ferrari in Moderna, Italy, is focused on the life and work of Enzo Ferrari.
The museum comprises two buildings. The first is the early nineteenth century former house and workshop of Ferrari, that has been renovated into a 40 metre long gallery, while the second is a new glass fronted structures that curves around it.
The new building has been constructed combining the latest in construction and energy saving technology, with a streamlined yellow aluminium roof that matches the colour of the Ferrari logo.
The new building hosts many models of the renowned Italian cars from a vast international collection and displayed like pieces of art.
Barrisol Installation
The museum features a Barrisol Stretch Ceiling comprising 2700 m² of Barrisol White Matt and 270m² of Barrisol White Venus.
The walls of the museum are covered with back lit Barrisol Translucent Sheets. These sheets incorporate images, movies and historical documents as projected media to represent the stages in the life of the passionate creator Enzo Ferrari.
Take a look at the Museo Enzo Ferrari Barrisol installation:
If you would like to know more about Barrisol and stretch ceilings, get in touch or call the Barrisol Welch team on 0800 124 4143.