Barrisol Stretch Ceiling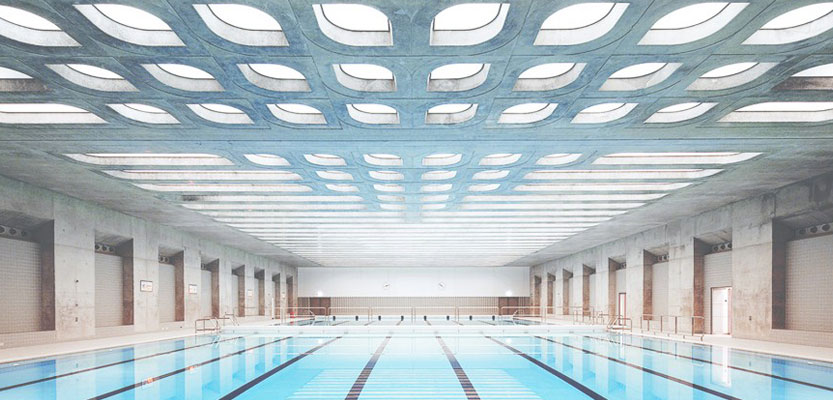 The London Aquatics Centre at the Queen Elizabeth Olympic Park is due to host the swimming, diving and water polo events for the London 2012 Olympic and Paralympic Games.
Designed by world renowned architect Zaha Hadid, the concept of the aquatics centre was inspired by moving water, with a focus on the facilities legacy use after the games.
Construction of the centre began in July 2008 and was completed in July 2011. The main contractor for the building was Balfour Beatty, whilst Arup acted as the structural engineer and the mechanical and electrical engineers.
Barrisol Welch is proud to have supplied and installed a Barrisol Stretch Ceiling as part of the London 2012 Olympic Aquatic Centre development.
Barrisol Installations
The London Aquatic Centre Barrisol Stretch Ceiling is composed of 138 petals made from Barrisol Translucent panels, breaking up the vast expanse of concrete.
Barrisol Translucent Ceilings create a natural daylight effect with help from the translucent fabric and concealed LED lighting.
The ceiling panels are fixed within demountable frames held in place by magnets and safety cords, allowing for speedy access to the lighting for maintenance.
Take a look at this completed stretch ceiling installation
Acoustic Ceiling System
Thanks to Barrisol Microacoustic Sheets, the degree of absorption can be regulated with high levels of precision.
The technology built into a Barrisol Acoustic Ceiling allow it to obtain spectacular acoustic result. The number of perforations depends on the sheet specified.
The Barrisol Acoustics line includes 8 different finishes including:
Gloss
Satin
Matt
Brushed Suede
Metallic
Translucent
Recycled
Perforated
Barrisol Translucent
The Barrisol Translucent Ceiling can be made to produce a full bright light, like daylight, or with careful positioning can be used to create powerful and effective lighting effects.
Barrisol translucent is used in conjunction with Barrisol Star Tracks to create the shape that you require.
Barrisol Lighting Systems have a large impact on how a space feels. Through the use of Barrisol, architects and interior designers can now use ceiling technology to improve the way they light interior spaces and help reinforce their design intent.
If you're looking for an acoustic ceiling system for your next big design project, or would like to know more about Barrisol Stretch Ceilings and Barrisol Lighting, get in touch or call the Barrisol Welch team on 0800 124 4143.