Stretch Ceiling Structures
The only limit with a suspended Barrisol stretch system is your imagination. We've pulled together some of our favourite projects for you to enjoy.
If you would like to know more about any of the Barrisol installations listed below, call the Barrisol Welch team on 0800 124 4143 or get in touch via the website and we'll call you back.
Suspended Halo
Our skilled in-house team built and installed this suspended backlit circular feature for an internationally renowned luxury car manufacturer.
Our team used Barrisol Mercure translucent membranes, with its superb light reflective properties, over the handcrafted aluminium frame for a stunning effect.
Careful attention was given to creating a lighting design that would evoke the soft 'halo' effect that you can see here.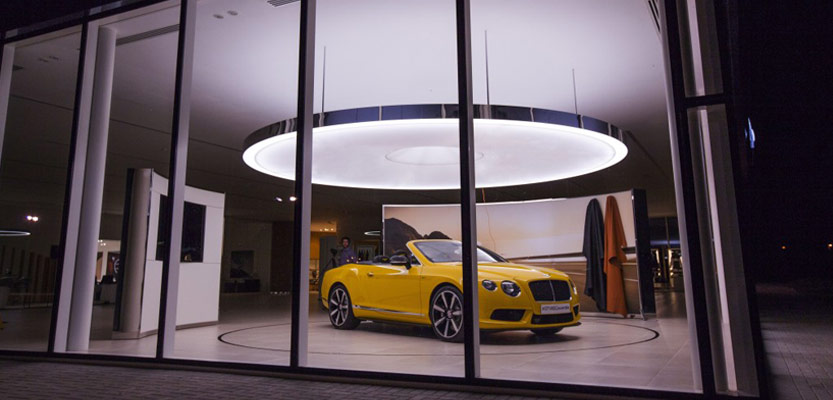 Retail Light Box
This commission for a high profile sports brand involved designing, constructing and installing one of our light rafts in a retail setting.
Firstly we constructed the raft framework taking into consideration that we had to incorporate a partition in the structure for sprinkler access – if you look at the photo above you can just about see the sprinkler.
The exterior of the light raft was powder coated to a customer specified RAL colour. The RAL colour matching system guarantees the correct paint shade as opposed to imitation paints that may show different hue and colour when observed under different light sources.
The perimeter track that would hold the Barrisol ceiling in place was then affixed to the lightweight structure. We then installed LED strip and co-ordinated sub structure requirements with the main contractor for working areas.
In order to keep the Barrisol light box in a pristine condition and free from bugs, debris and foreign bodies, a double skin solution was installed. The customer selected Barrisol Blanc Venus for its translucent properties for the lower sheet and we recommended Barrisol Nereide a clear protective sheet to be fitted above.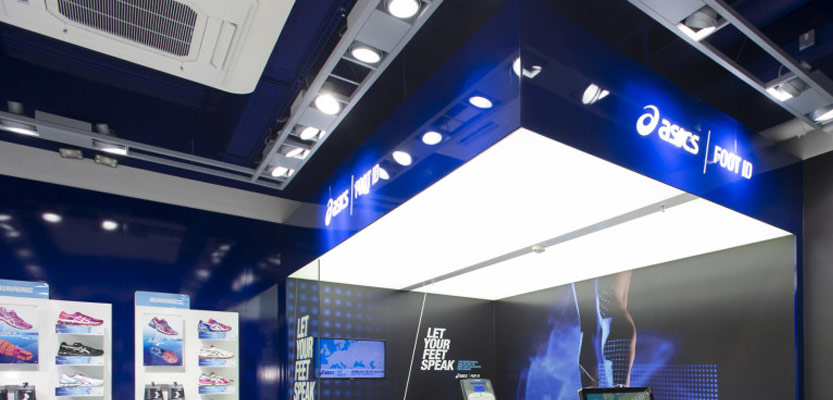 3D Structures
This complex Barrisol 3D structure impacts upon this commercial setting and is so lightweight it can easily be suspended such a void as this.
Barrisol can be shaped into almost any form and in a vast choice of finishes and colours. In this example the individual Barrisol segments were cut to the shape and size required and then welded together to create this tour de force.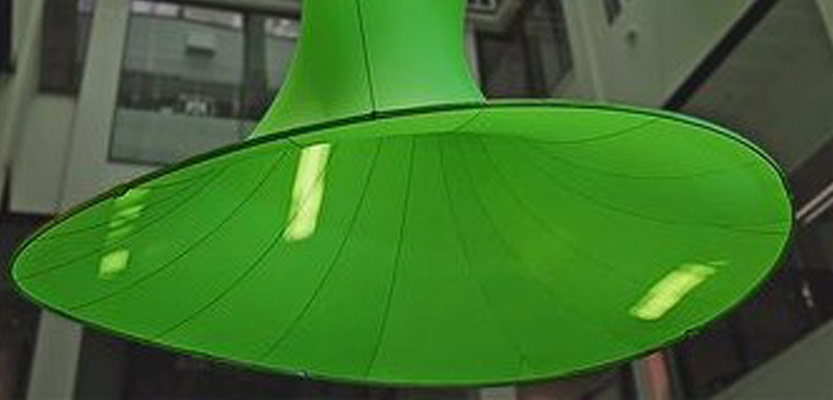 Creative Lighting Design
This assignment involved the creation of 104 suspended Barrisol discs with programmable LED lighting for a cruise liner nightclub.
We chose  the Barrisol Xtreme Mercure translucent sheet with its excellent light transmission rate of  52% for this project. To ensure the required lighting output at 80mm depth discs, a super bright low energy LED strip was custom made with smaller chips for better light coverage at lower disc depth.
Passive cooled PSU's were chosen for a noiseless operation and sufficient head room to keep their lifecycle as long as possible. A combination of DMX RGB decoders and RGB boosters provided the RGB output for all the low energy LED strip. This solution provided consistent colour changing lighting across the whole disc surface of the Barrisol material at the lowered 80mm depth.
All the discs were designed and assembled in-house by Barrisol Welch and ranged from 1.5m to 2.5m in diameter. A rolled aluminium angle with additional bracing was incorporated into the design to give more strength and framing to the structure. In addition bracing supports across top of the assembly were affixed to maintain rigidity and provide structure for the fixing points above.
The whole support system was then powder coated with a matt black finish.
The end result, as you can see, provides the client with a myriad of colour and light sequencing options from which to choose.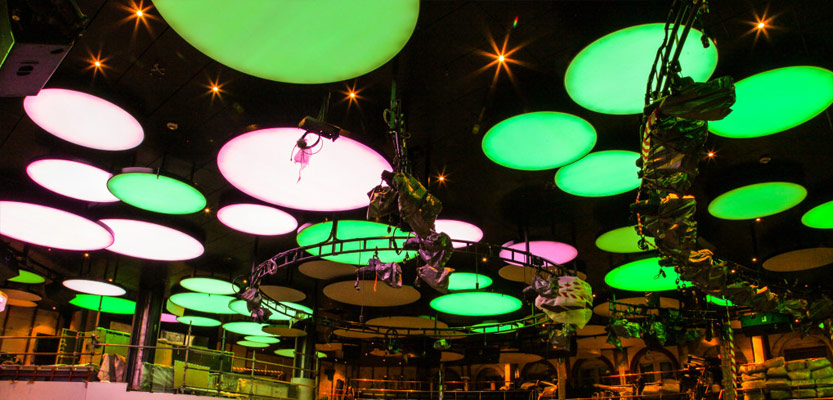 Watch: Cruise Ship Installation Video