Barrisol Stretch Ceiling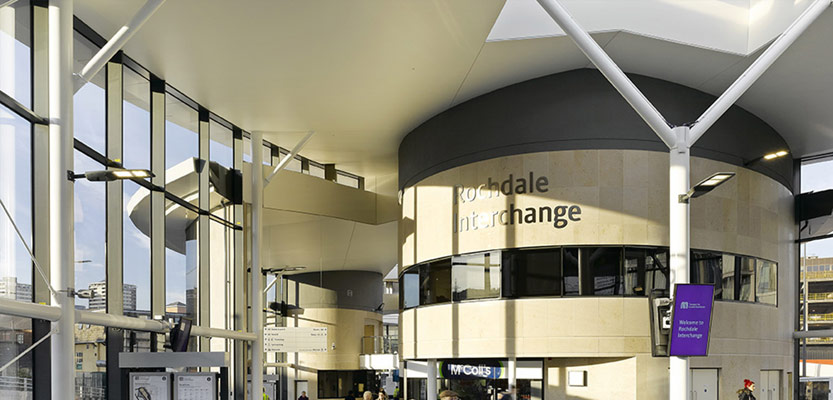 Rochdale's new £11.5 million transport interchange will provide enhanced facilities and improved safety for passengers.
The scheme which has been part funded by the Department for Transport and built by Kier Construction, is part of a wider £250 million redevelopment of Rochdale town centre.
The facility will link directly with the new Metrolink extension and is Europe's first transport interchange to have an integrated hydropower source.
The preferred design is a fully enclosed, single concourse incorporating travel centre, public toilets, café and additional retail facilities. The concourse is designed with a high degree of transparency and the stepped and tilted roof plates reflect the gradient of the site.
Barrisol Installations
Barrisol Welch supplied and installed a stretch ceiling to flow round the sweeping curves of the facility, creating and near seamless ceiling.
We used the Barrisol Star Track and 866m2 of Barrisol Matt stretch fabric to wrap the ceiling in this ultra modern building.
The Barrisol Star Track was screwed to the rigid building structure. Plasterboard is skimmed and has a background member within, to take the tension of the finished product. The jointing double track was be suspended using timber or MF metal studwork.
The Barrisol material was made approximately 7% smaller than the actual measurement at the Barrisol production facility in France and shipped to the site within seven days.
On site, the Barrisol membrane was warmed to 40ºC using propane gas heaters, stretched using Barrisol's specialist spatula tools and then clipped into the Star Track system.
Apertures for lights, sprinklers, grilles etc. were cut out with reinforcing rings welded to the sheet thus allowing final fittings to be installed.
Take a look at this Barrisol Stretch Ceiling installation:
For more information on Barrisol Welch and the commercial applications of Barrisol please get in touch or call 0800 124 4143.
Watch: Barrisol Stretch Ceiling Installation