Our Architectural Metalwork combines over 43 years' worth of manufacturing and design expertise. Our aluminium systems offer the client durable, sustainable and design-led solutions, offering long term value with environmental credentials.
Architectural metalwork can achieve a wide range of applications depending on need. The client can consider any combination of acoustic performance, impact resistance and pure, aspirational design features. For this reason, we do not publish standard design files. If you can draw it, we can probably make it, so please contact us to discuss your requirements.
Supporting sub structures
Fabricated from MF and aluminum we can fit supporting braces and framework onto existing main and secondary structures ready for Barrisol® retention tracks to be fitted. This framework can be flat, pitched, shaped, rolled, 3D formed to suit your Barrisol® design.
Our engineers can produce 2D and 3D shaped supporting structures to exact dimensions based on CAD drawings to ensure the final Barrisol finish is shaped exactly as planned.
Complete ceiling framework
For large multi panel ceiling installations our team can install framework to support all the perimeter and separating Barrisol® tracks.
With installations of over 1000 square metres completed we can offer the whole package for Barrisol® ceilings of any size.
Main Feature Framework
One of the benefits of using Barrisol® Welch is our ability to handle an entire project from start to finish using our in house expertise. We can help clients to finalise practical designs and advise how frameworks can be fabricated to create the physical solution.
We are able to create lightweight aluminium, MF and Perspex/polycarbonate 3D framework to house both standard Barrisol® materials as well as internal lighting components for illuminated projects.
Mosiac framework with translucent Barrisol® materials can be manufactured to create unique ceiling and wall features.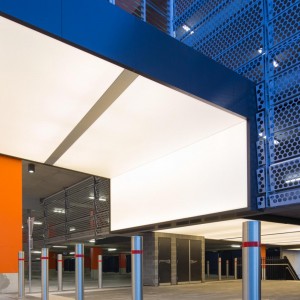 Quality finishes
Internal paint shop. Utilising our own tooling and paint shop we can provide painted finishes for metalwork and track to suit your project. With our network of selected suppliers we can source the best paint materials to match any client finish.
For larger requirements we offer powder coating to match any colour for our tracks and framework.
Coated finishes. These finishes look and feel just like cast metal finishes that can be adhered to almost any surface including plastics, gypsum, wood, metals, fibreglass, ceramics, concrete, cardboard etc. Once cured the coatings have the characteristics of metal finishes including the texture and luster. These finishes can be brushed, polished or natural cast appearance.
With our passion for quality and working to tight tolerances and specifications almost any finish can be created to enhance the aesthetics of Barrisol® installations.