Stretch Ceiling Maintenance
Barrisol Welch offer a wealth of  experience when maintaining the Barrisol Stretch Ceiling Range. Our engineers are factory trained and skilled  in the procedures to deliver exceptional care to your Stretch Ceiling.
Barrisol ceilings can be cleaned but they must be cleaned with appropriate approved products.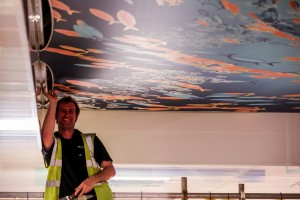 Stretch Ceiling Cleaning Product
BARRICLEAN – Order reference  B 160 / 02  (1 liter for an area of about 30sqm)
Cleaning Procedure:
1. Spray the Barriclean directly onto the ceiling over 1 meter wide at a distance of about 30cm.
2. Leave the Barriclean for 5 minutes.
3. Use a cloth/ sponge to rinse the ceiling with clear water
4. Repeat the rinsing 2-3 times until the surface looks clean.
5. Try to get rid of any large amounts of water that are on the ceiling with a damp cloth.
6. Repeat steps 1 to 5 for every metre of the ceiling.
Caution: dry clothes could scratch the ceiling. Cloths must at least be damp when in
contact with the ceiling.
Glass cleaning agents, foam products and other chemical cleaners are not recommended to be used with  Barrisols.