Barrisol 

®

Stretch Ceiling STAR System
Barrisol® Star offers a perfect modern finish to renovate or to decorate any type of interior space. The ceiling is stretched from wall to wall with hidden STAR tracks. Every Barrisol® Stretch ceiling is custom made to the exact dimensions of the room. The system of Barrisol® Star has all the advantages of the normal Barrisol® frames but it offers an extra high performance as no track can be seen around the perimeter.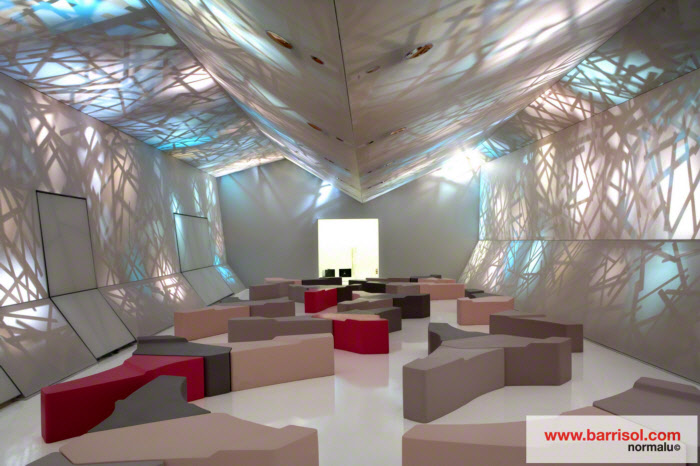 Barrisol

®

Star tracks 
The tracking system used is made of 100% recyclable PVC or aluminium. However, after installation the Barrisol Star® tracks are completely hidden with only a small gap of a few millimetres showing around the perimeter. It can carry out any design, even the most imaginative.
The Barrisol Star® track is made of aluminium. It is attached on to the wall and is invisible after the Barrisol® skin is installed. There are 2 types of tracks that can be used to install the ceiling at different heights, the diagrams of both are below.


For more Star profiles please visit the track systems page.
Fitting the Barrisol

®

into the Star frame
By pushing the spatula inside the harpoon and stretching the material you can fix the Barrisol® into the Star frame around the perimeter. As shown in steps below.
Step 1
The Star track is fixed on to the walls.
Step 2
The harpoon is inserted into the track
Step 3
The Barrisol® material is stretched – the finishing is professional with only a 5 mm gap.