Barrisol's® unique material properties are perfectly suited for use in humid spaces. With permeability and steam test requirements easily met Barrisol® systems are ideal for swimming pools and other wet room installation. Utilized to decorate, and rejuvenate swimming pools and leisure facilities all over the world, Barrisol® Welch install Barrisol® systems for the following swimming pool and related applications: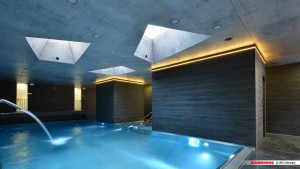 Domestic and private swimming pool facilities.
Exclusive, high end private swimming pool and spa facilities.
Public swimming pools.
Commerical stadia and water park swimming pools and features.
Hydrotherapy pools.
Spas, Saunas, Steam, changing and shower rooms.
Flat or pitched designs and structures.
Rolled or vaulted pool ceilings.
Baffled or waved or flowing organic 3D shaped feature ceiling and wall designs.
Creative and unique architectural pool designs to enhance the interiors.
Printed ceiling systems for wet areas.
Suspended rafts as ceiling and wall features.
Gloss finish (reflective) ceilings or rafts to increase perception of height and space within an area.
Illuminated Barrisol

®

systems for pool and wet areas
Fast turn around installation projects to cover large areas in minimal time.
Refurbishment projects – cover existing large ceilings and wall areas without the need for lengthy and costly demolition or removal and redecoration costs.
Barrisol® can also have very good acoustic ratings with the variety of perforations that can be put into the material. These range from A15 to A40 and can be seen on our colours page. This can sometimes be vital for a space such as a swimming pool due to how large the rooms are and how busy they can get. Barrisol® Acoustics can help keep this sound in whilst also being aesthetically pleasing.
One of the main reasons Barrisol® is popular for swimming pools is the low maintenance factor. Once installed the Barrisol® ceilings shouldn't need cleaning for a couple of years at least and should only need cleaning before this if someone has got something on it or there has been a leak. When it comes to leaks behind the Barrisol® there is no need to worry as the Barrisol® will just droop down like the goldfish video and we can come out to remove the panel/drain the water, clean the panel and then re-install it. Which is a lot easier than having to re-plaster the ceiling.
If there is pipe work, lights, sprinklers, fire alarms etc that need to come through the material then this is easily done with reinforcing rings which are made from PVC. These are stuck onto the ceiling, the ceiling can then be cut and the pipe or light can be pulled through. Another interesting feature are skylights that can be made apart of the ceiling itself as you can see in the above image, the Barrisol® can be wrapped up into the skylight or vertical panels can be installed.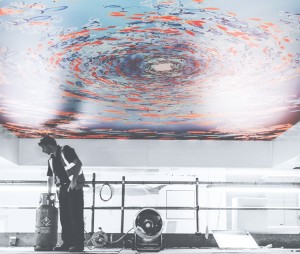 Lastly printed Barrisol® can also be installed above pools without the chlorine or any of the other chemicals in the room effecting it. You can have any image you like printed onto the ceiling such as the one above which was made to look like a whirlpool of fish were above you. The above ceiling was done at Manchester Childrens Hospital above there hydrotherapy pool.
Barrisol® material properties are available here in the ecology and health & safety brochures. Click here to go to the brochures page.