Barrisol

®

 Print
As with other Barrisol® sheets, the installation of a printed Barrisol® sheet provides the perfect finish for any room. The installation of Barrisol® sheeting is clean and fast with very little disruption for the client.
Barrisol's® ceilings can be adapted to all types of spaces. Barrisol® ceilings can be removed and reinstalled at any time to gain access to the area above the ceiling. Access to mechanical and electrical systems above the ceiling is fast and easy.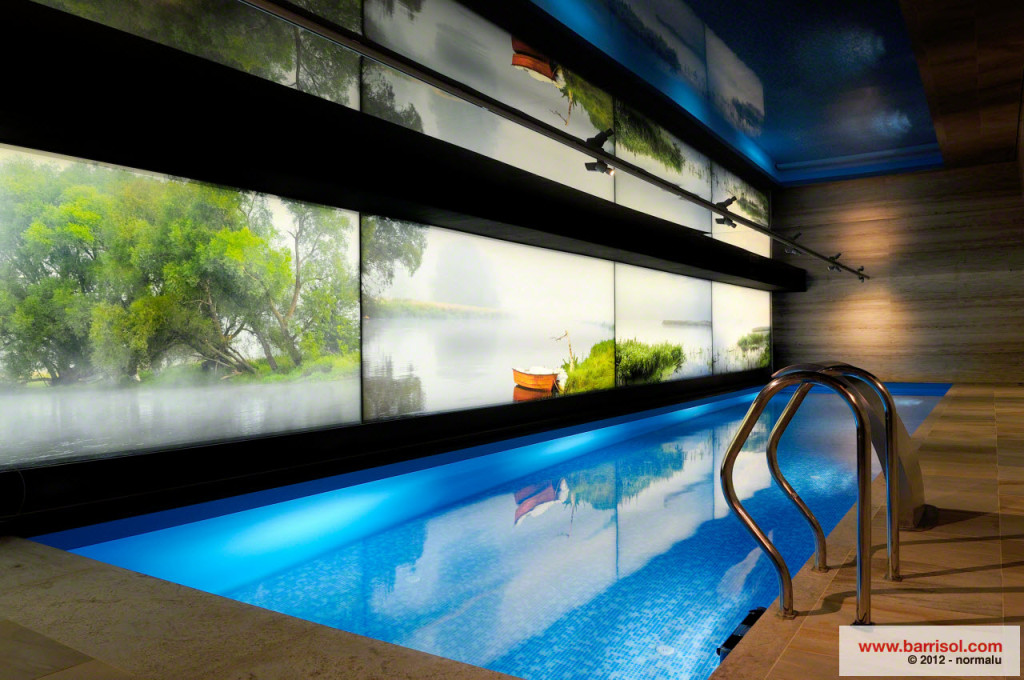 Barrisol® ceilings can help introduce vibrant colours into any space. Printing on Barrisol® offers unlimited creative possibilities by offering 130 different colours and 7 unique finishes. The only limit is the designer's own imagination.
Thanks to the Barrisol® Translucent line of sheeting, it is possible to combine overhead lighting systems and Barrisol® sheeting to create your own, one-of-a-kind lighting elements. When lit
from above, Barrisol® Translucent sheets provide a diffused light and enhance the images printed on a Barrisol® sheet.
 Barrisol
®

Print Acoustics

The combination of printed images and Barrisol Acoustics® sheets provides designers a very effective tool for optimising acoustics without sacrificing design. Sound attenuation is subtle and attractive with Barrisol Acoustics® sheets.

The Barrisol's® sheets are classified M1 (Class 1 or Class A) for fire safety and can be installed in public places in accordance with local regulations.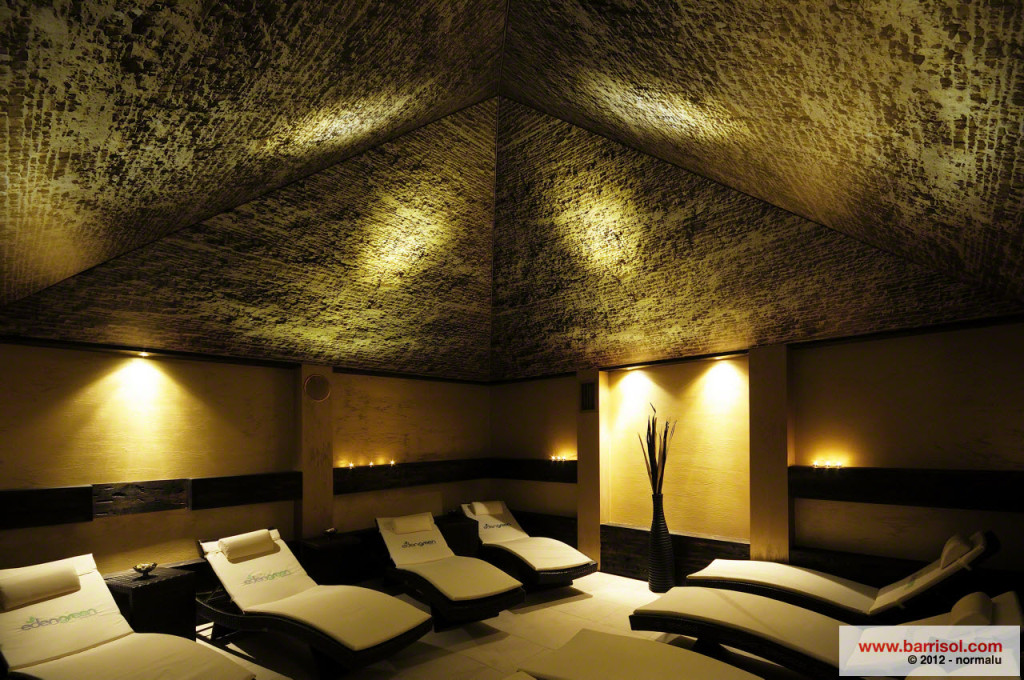 As with all Barrisol® sheeting collections, Barrisol® printed sheets are 100% recyclable. Barrisol® promotes the protection of the environment and recently came out with its Recycled line of sheeting products. Sheets in the Recycled line are composed of 50% recycled material.
Barrisol® ceilings can be used to enhance the decor of any space. Stylish and completely adaptable to any space, Barrisol's® wide variety of potential applications is further increased by the ability to print directly on the sheeting.
Photographs, artwork, corporate logos, etc, can easily be printed on any one of Barrisol's® 130 colors and the 7 finishes. Designers do not have to settle for a standard finish or color, by printing on the Barrisol® sheeting they can create their own one-of-a-kind ceiling.
Barrisol
®

Print Design

The images printed on Barrisol® sheets help to create a truly unique atmosphere. The images can enhance the overall design of a room by complimenting other design elements in the

space. Images, such as a peaceful landscape or an ocean / beach scene can be used to create a more relaxing environment. Ordinary objects, cityscapes or corporate logos can be used to

create different effects. Images of almost any type can be printed on Barrisol® from the most traditional to the most avant-guard.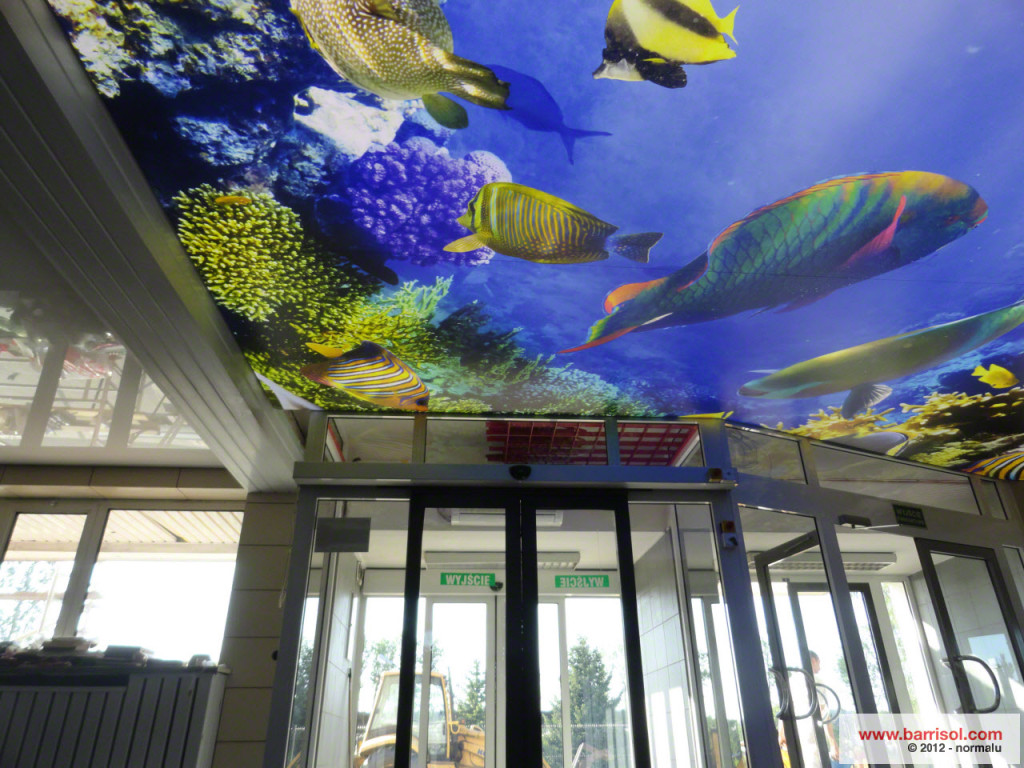 Utilization
Barrisol® Print sheets offer a wide variety of interior design application options. Children's bedrooms, dining rooms, restaurants, cinemas, corporate offices or trade show booths, all of these spaces and more can utilize printed Barrisol® to reinforce any message or theme a designer is trying to convey.
Combined with an integrated lighting solution, printed Barrisol® sheets allow for a whole new level of creativity. Enhanced by the light from TLs, LED's or fiber optics, the printed images on walls, ceilings or 3D shapes push back the limits of interior design. Printed Barrisol® sheets that are lighted from behind offer an intriguing combination of aesthetics, elegance and functionality.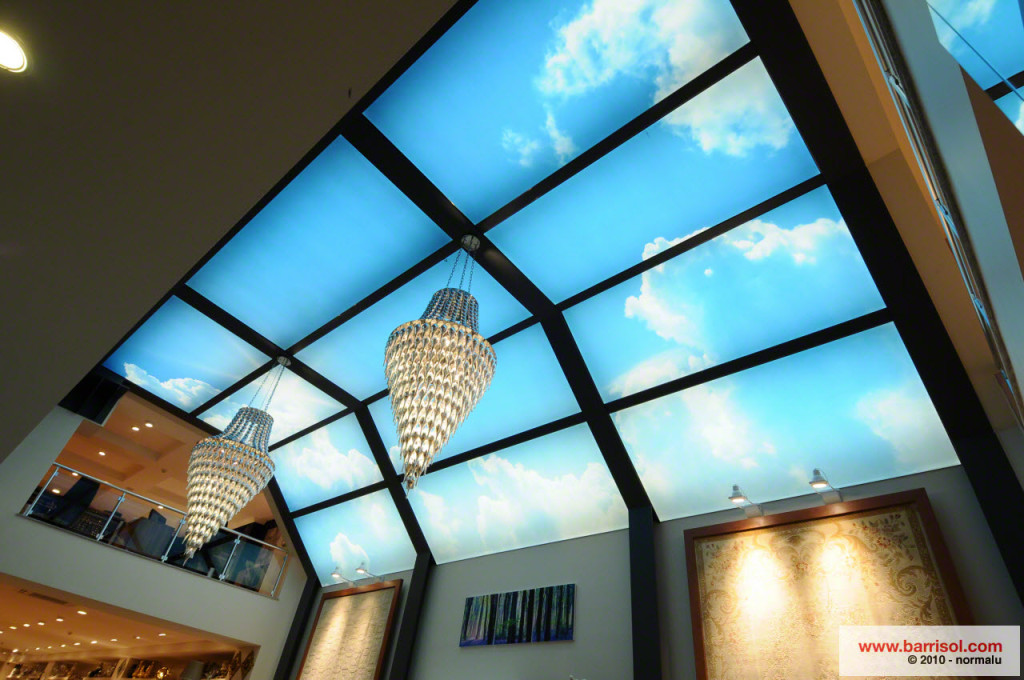 Design
The light added to printed Barrisol® sheets used on walls, 3D shapes, fixtures or ceilings, helps dramatically enhance each image. The ability to change the color of the lighting allows you to change the look and feel of the image and set an entirely different tone for the room.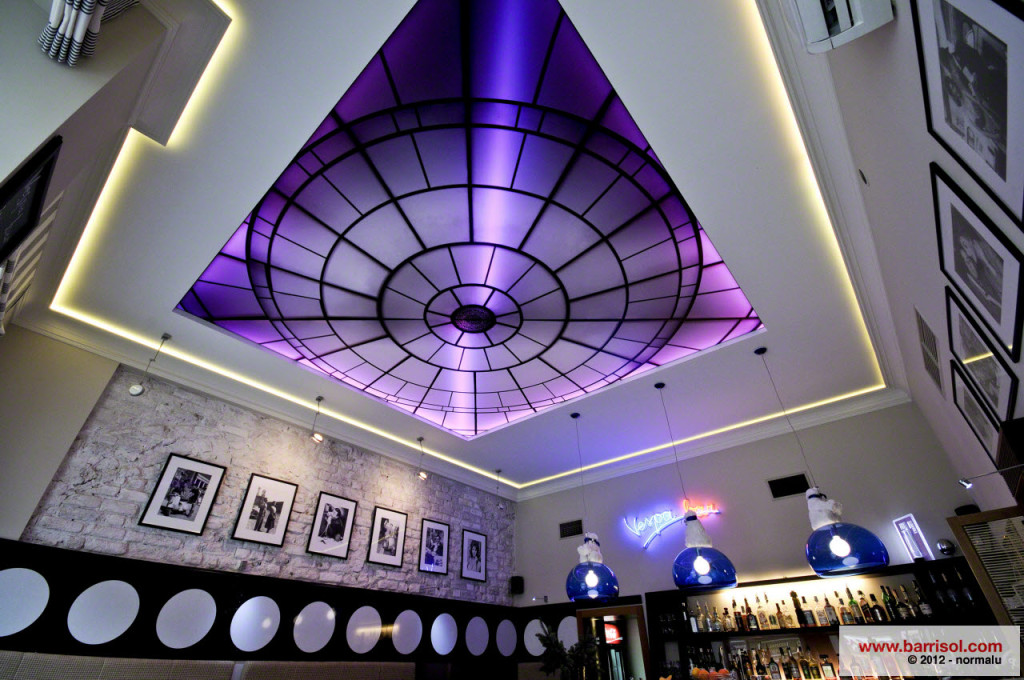 Utilization
Printed Barrisol® sheets, when used in conjunction with an integral lighting system, help to enhance the uniqueness of any space. Living rooms, game rooms, nightclubs and even event structures can all benefit from the creative use of Barrisol®. Anywhere the creation of a unique atmosphere is desired by combining both a printed image and subtle lighting. Lighting systems that change colors can also be used in hospitals and clinics to provide a subtle, calming and tranquil environment during treatment.
Thanks to Barrisol® Normalu's innovative perimeter rail and support systems, it is possible to create all types of shapes: circles, waves, curves, diamonds, crystalline shapes, right angle turns, cones, etc. All of the elaborate sub-structure is then covered with printed Barrisol®. Barrisol® 3D printed creations can be customized to fit any location.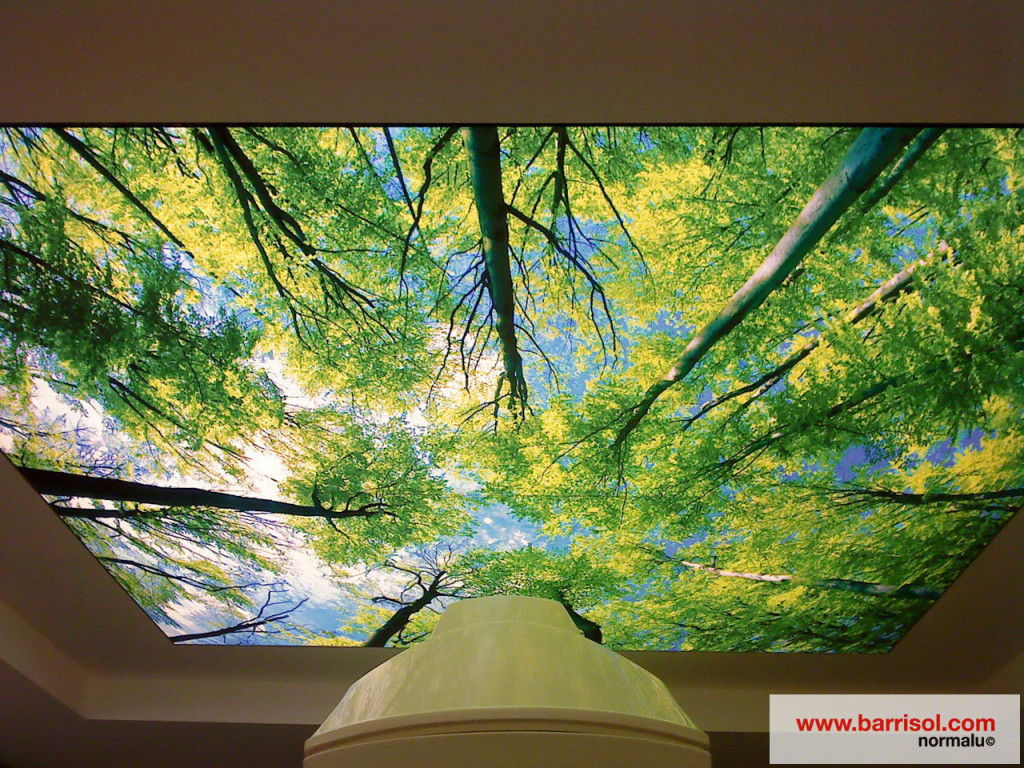 Design
3D Barrisol® shapes dress up any space. By altering both shape and volume, structures become full-fledge architectural features with an infinite number of possible designs. The printed Barrisol® placed on them helps reinforce the tone the designer is trying to set within a space. The wide palette of colours and finishes available allow the designer complete freedom of expression.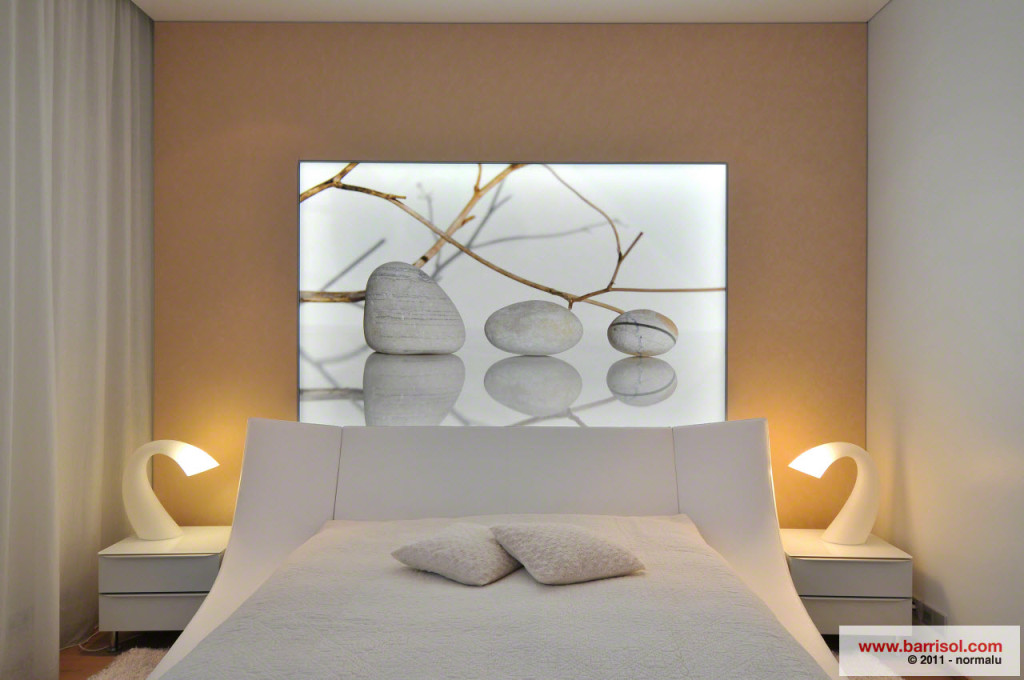 Utilization
3D printed Barrisol® is best used anywhere the creation of unique volumes, the enhancement of design themes or the utilization of a specific image or corporate brand is desired.
For cinemas, kitchens, inside corporate offices, trade show exhibits or special events structures, printed 3D Barrisol® creations can support a design theme and reinforce a brand or image.
Printed Barrisol® sheets can also be formidable tools for acoustic noise reduction by using an acoustic Barrisol® sheet in conjunction with a classical printed sheet. When installed in a loud space such as cinema, meeting room, dining room or home cinema room, these sheets absorb excess sound energy and promote acoustic comfort and speech intelligibility.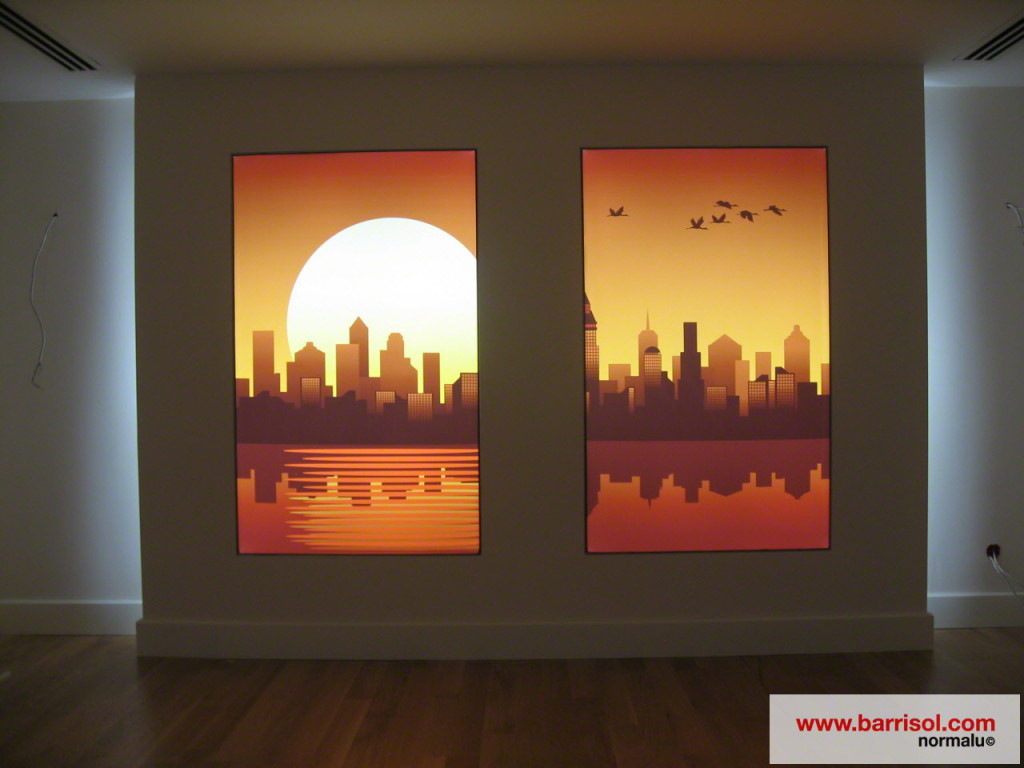 Acoustic printed
Acoustic printed ceilings are achieved by combining a lower, printed sheet layer and an upper, acoustic sheet layer. The visible printed sheet, when contacted by a sound wave, begins to vibrate. This vibration takes energy from the sound wave. When the sound wave hits the acoustic sheet above, it is forced into the micro-perforation holes that help to convert the energy of the sound wave into thermal energy. This energy transfer further decreases the energy of the sound wave and helps to decrease reverberation in a space. (See the diagram below)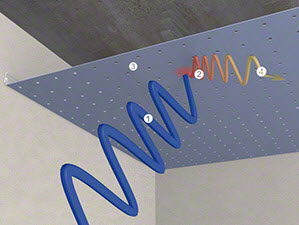 Barrisol Acoustics®
BARRISOL ACOUSTICS® is a line of sheeting intended to absorb sound. Micro-perforations in a Barrisol® sheet reduce sound by converting acoustic wave energy into thermal energy as the sound wave is forced through the perforation holes. Additional friction is caused by the wave moving through air between the Barrisol® sheet and the ceiling above.
BARRISOL ACOUSTICS® line is composed of four different sheets: Microacoustic®, Miniperf®, Acoperf® and Microperf®. Each sheet varies in the density, pattern and diameter of the microperforations. The acoustic technology contained within BARRISOL ACOUSTICS® sheets offers spectacular sound attenuating results while remaining attractive in any setting.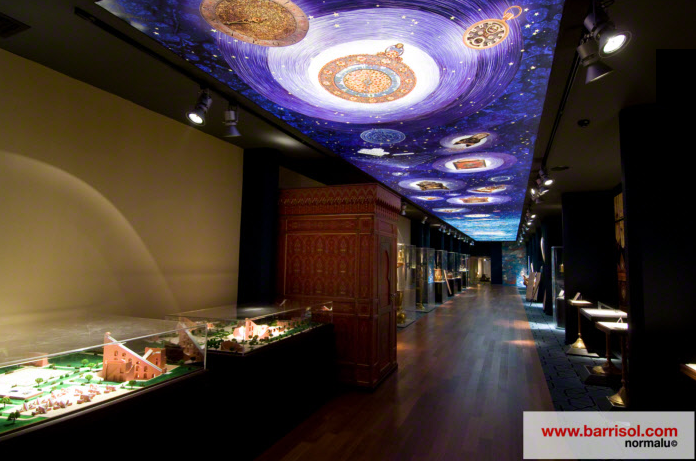 Barrisol® offers a collection of standard images that can be printed on any sheet. These images are divided into these 9 categories:
• Patterns • Food and Beverage • Animals• Flowers • Nature and Landscapes • Art
• Zen • Wonders of the World • Illustrations Custom images can also be printed on Barrisol sheeting.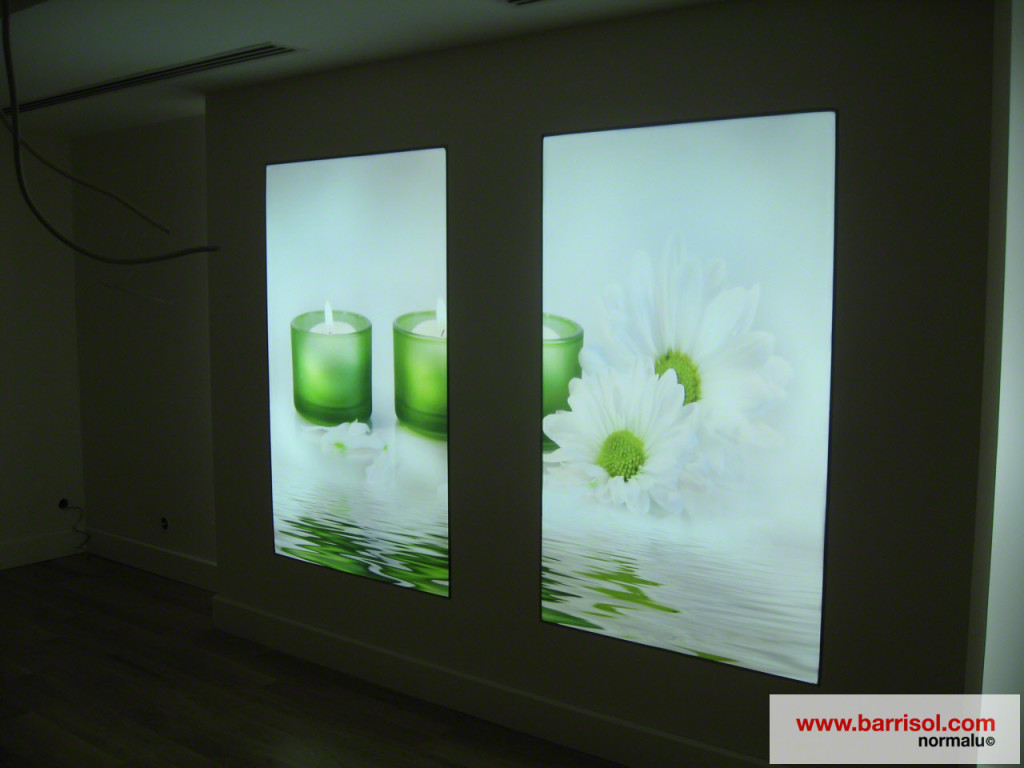 Sheets with images printed on them can be installed either inside or outside. Images kept away from ultraviolet light are offered with a 10-year discoloration warranty. It is possible to print images on the following Barrisol® sheeting lines: brushed suede, lacquers, metallic, satin, matt and translucent. The picture or image to print must be provided in the highest resolution possible. In order to ensure maximum clarity, the image files must be provided in: 1/10th scale to the sheet on which it will be printed, be in either EPS vectorised (preferred) or PDF format, in a minimum resolution of 300 DPI and in CMJN.
For example: if the printed sheet dimensions are 2m*1m, the image file must have a minimum size of 20cm*10cm with a resolution of 300 DPI.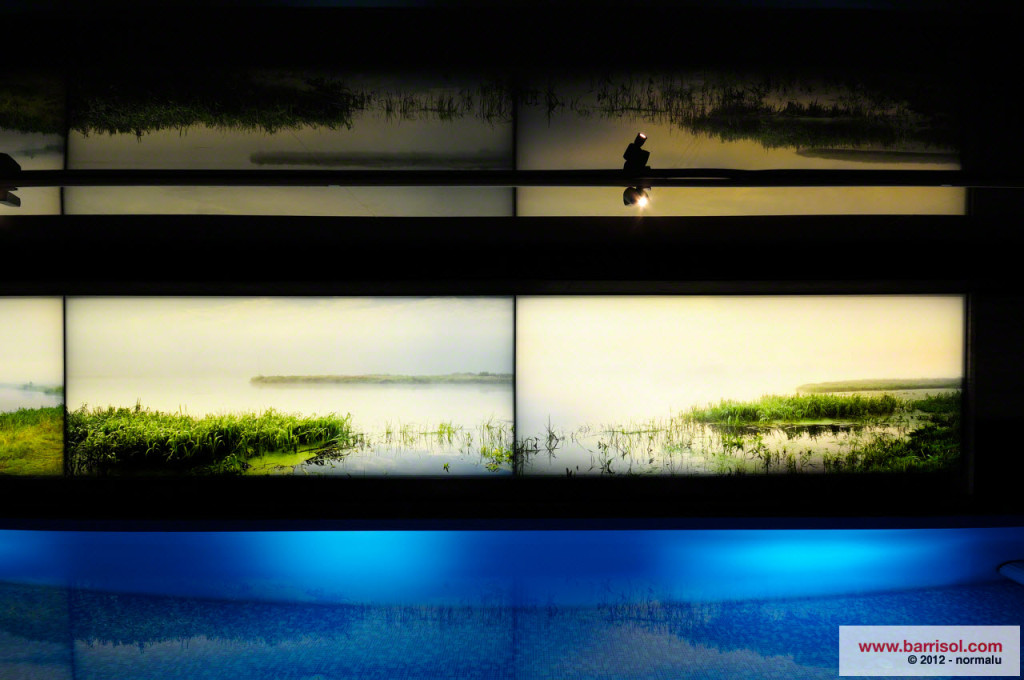 Warning: It is not recommended to print mostly black images as the image quality and clarity may vary across the image. The maximal width for printing 2m15 (or on special order 2m50). A diagram of the exact position of the image on the sheet and the exact dimensions of the image on the sheet will be required. The lead-time for printing is 3 weeks (from receipt of complete information).
Barrisol® requires that artistic and photo credits be given to the creator of any original image. In order to submit an original image for printing, the permission of the artist or the reproduction rights for the image must first be obtained by its creator or current image licensee. Barrisol® is not responsible for images printed without proper permission.
Gallery of printed Barrisol®