Barrisol

®

Artolis

®
When it comes to Artolis® the installation process is quick and simple. The fabric can be made to any measurement and is supplied in 3 or 5m widths. The profile can then be attached to any wall or ceiling using conventional fixing methods.  Once this has been done any additional fixtures such as lighting, CCTV, smoke detectors or electrical accessories can then be affixed. Specialist tools, that allow the fabric to stretch around the accessories, are used to achieve a clean and professional finish. The Barrisol ® Artolis has superb acoustic properties and absorbs background noise thereby providing a much improved space in which to live or work.
Artolis

®

Printed Murals
As we have state of the art HD digital printing technologies, Artolis® can have nearly anything printed onto it, such as your own pictures, with the minimum quality being 360 dpi which is 1/10th from the final format. Artolis® Editions is a large picture collection obtained by Barrisol® for their customers, here you can choose your image and also save a vast amount of time searching for your image. This wide collection includes pictures available from prestigious places such as le Musée de l'Impression sur Etoffes (Museum of Printed Textiles), National Museums such as Le Louvre, Orsay and Versailles. The printing options are limitless – with up to 5m widths free of weld lines to play with. Another inspiring option to consider, is a printed  Artolis® sheet combined with an Artolis® lumière sheet thereby creating a stunning illuminated picture ceiling or wall.
A high definition print 720 DPI (HD) with millions of different colours
A very high definition print of up to 1440 DPI (THD)
Up to 5 m width and up to 50 m length
An internal graphic studio
A certified process FOGRA ISO 12647 to give you maximum guarantee
Performances and low thickness
As Artolis® is very acoustic it offers a wide range of high and really high acoustic performances, aw= 1.0 plain or printed.
When it comes to coated textile membranes their performances provide exceptional results with very low thicknesses.
Example 1: 50 mm thickness with 45 mm glass wool = Acoustic absorption ranking: A or B
αw situated between 0.85 and 1.0
Example 2: 10 mm thickness with a 600g/sqm fleece = Acoustic absorption ranking: D
αw situated between 0,4 and 0,5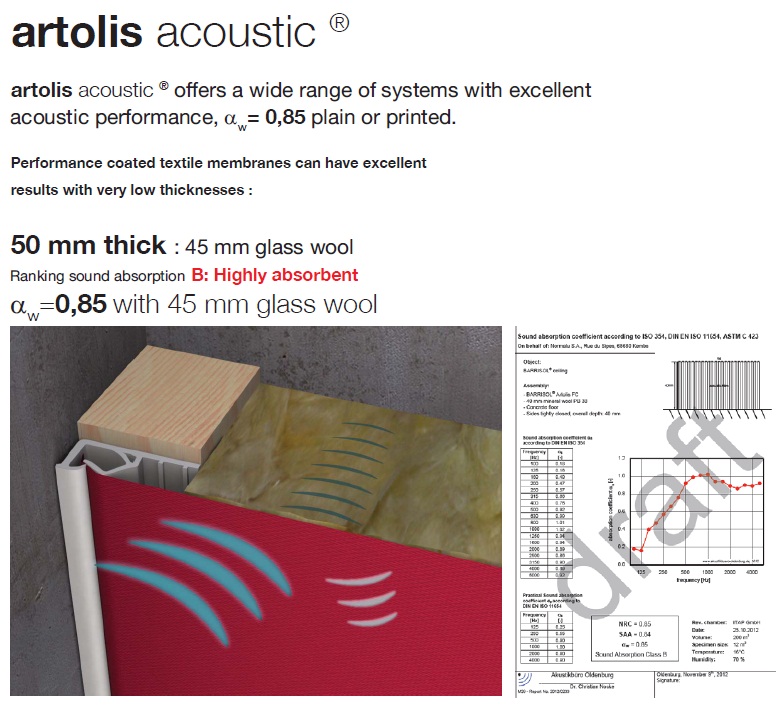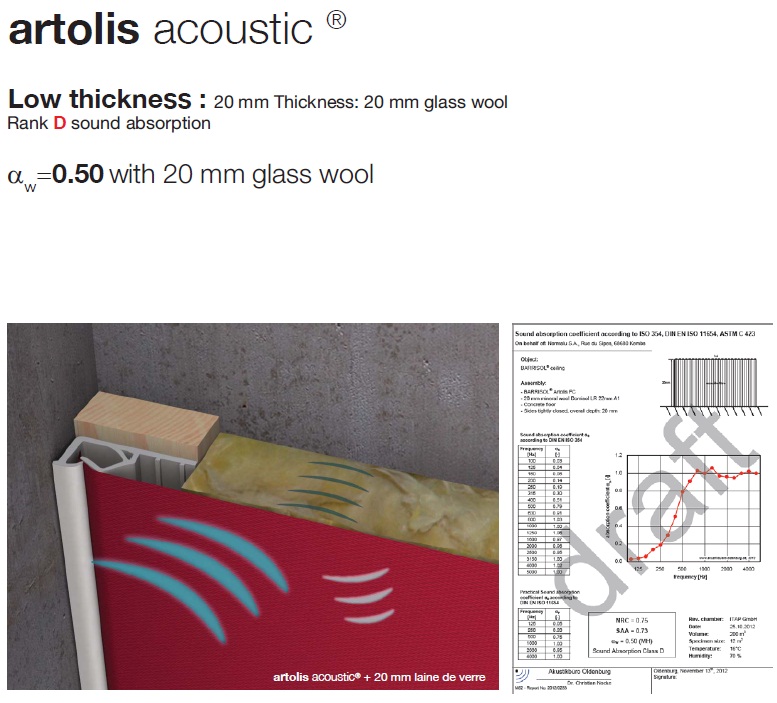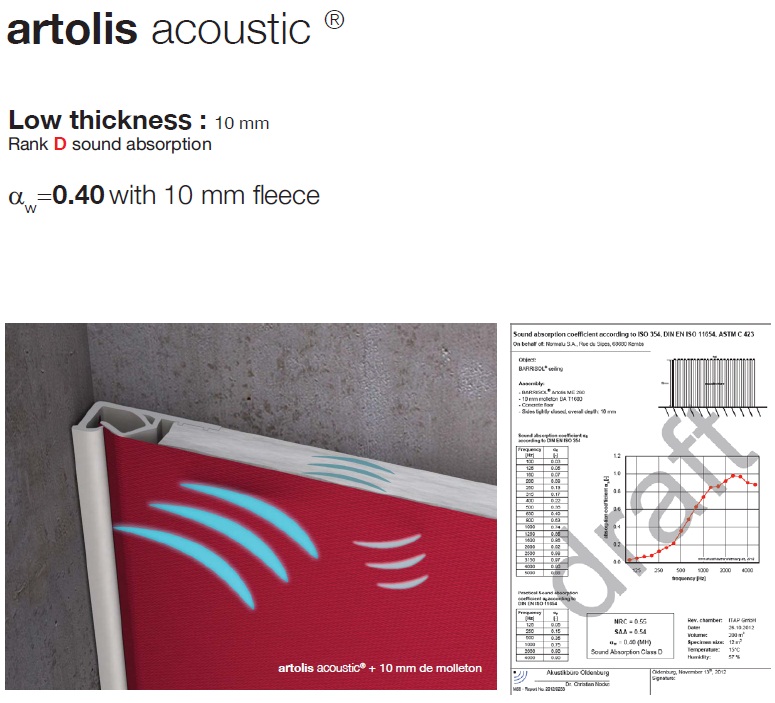 Artolis®  Lumière can be backlit using LED to create many special lighting features. The light is perfectly diffused by the Artolis® and along with this also has the advantage of being robust therefore allowing us to create and install mounted light boxes.
Artolis
®

 Profiles