With more than 40 years of knowledge when it comes to understanding businesses, the Welch  process takes into consideration the requirements of retail specific stores. After all, a retail display is not a store front, so the lighting/ceilings  must complement these areas and the intended effect achieved without compromise using Barrisol® and Artolis® Products.
It is essential to understanding our process, evident in the retail solutions we provide a partnership with the world's biggest retail brands. Competition on the High Street is as competitive as ever with retailers vying for attention. With the use of the correct Barrisol®  products, scheme and our professional focusing, your shop window can really stand out from the crowd and entice customers to enter your store. Barrisol® Welch install Barrisol® systems for the following retail applications:
Art Galleries
Fashion boutiques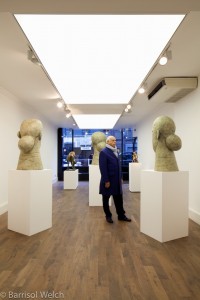 We have done a number of installs for Art galleries such as the two John Martin Galleries, one is in the image above. We have also done installs for the V&A museum and the Natural History museum.
Clothing outlets
Sports wear outlets
When it comes to clothing outlets and shopping malls we have done work for Timberland, Nike, Lacoste, New Look, FCUK, Monsoon, Paris Miki, Asics, The Meadowhall Shopping Centre, The Bentall Centre in Kingston upon Thames, Clayton Square shopping Centre in Liverpool, The Meads shopping centre and the Westfield shopping centre.
Shopping Centres and Malls
Lighting for shop fronts
Acoustics
3D forms for eye catching displays – please see the video below of the Barrisol

®

waves done at The Meads shopping centre.