With the unique high quality Barrisol® finishes you can easily and quickly transform office spaces into aesthetically welcoming, creative locations, enhancing working facilities.
Barrisol® material finishes can be used for both ceiling, wall, suspended and 3D interior features. Manufactured from a refined recyclable PVC based polymer with European fire ratings of BS1d0 Barrisol® Welch install Barrisol® systems for the following commercial office applications:
Individual ceiling or wall features.
Suspended and 3D interior features.
Printed ceiling or wall murals.
Printed panels with commercial livery and corporate designs.
Lighting and general illumination features – see lighting applications

Complete ceiling and wall systems for spaces and rooms to provide a clean, fast install, maintenance free solution.
Fast turn around installations for refurbishment or re-deployment projects.
Cover and hide – cover existing walls, partitions, ceilings quickly without the need for full refurbishment or re-decoration works.
Acoustic solutions for all working areas – see acoustics details
Recycle existing office structures and features – install Barrisol

®

into existing ceiling systems
Reception and general thoroughfare areas.
Meeting spaces and auditoriums.
General working areas.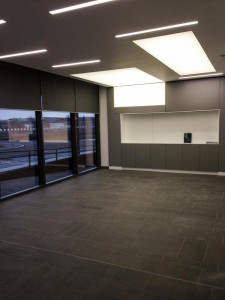 Corridors and welfare/facilities areas.
All building areas and spaces.
Vast range of material finishes, any size installations for ceilings and wall systems for interior design schemes. Over 230 colours and shades available.